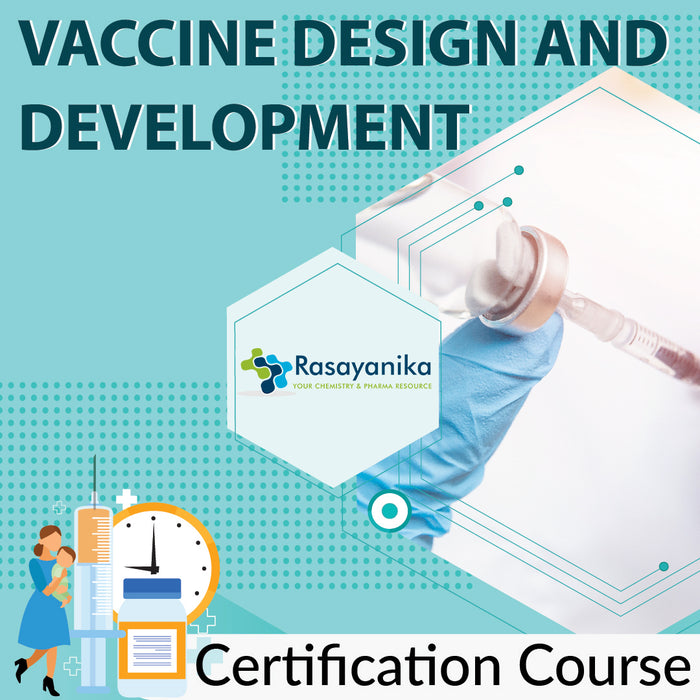 Vaccine Design & Development Online Certification Course
Save

92

%
Original price
Rs. 13,999.00
Current price
Rs. 1,098.00
Vaccine Design & Development Online Certification Course
We could say one of the significant discoveries in the history of medicine was that of vaccines. Vaccines are extremely useful in preventing infectious and life-threatening diseases, and they have proven very effective in reducing childhood diseases and mortality.
What is the importance of Vaccines?
Vaccines protect you from pathogens like bacteria and viruses by teaching the body to defend them. Numerous new bacteria and viruses are being discovered every day, which can potentially cause diseases in humans. Effective vaccines are required to tackle these potential threats.
Explore the most interesting field of immunology and learn structure-based vaccine design, subunit vaccine component, and delivery and optimization of effects of vaccines with Rasaynika's Vaccine Design & Development online certification course. To enrich your learning experience, Rasaynika is bringing you the online self-learning course.
Eligibility To Attend The Course
All those who have a keen interest in immunology, Bsc/Btech/MSc/ Mtech candidates, teaching and industry enthusiasts, and even research scholars can enroll in this course.
Benefits of attending the course:
Lectures are designed in an elaborate manner, covering each concept at a perfect pace.
Flexible deadline, begin and finish the course whenever you want.
Evaluate yourself with the test at the end of the course, and improve accordingly.
On successful completion, earn your hard copy certificate.
Aid your learning with extra resources.
Course Module
Day 1: Vaccine- production, overview, and types
Day 2: Immunology, protein design, and genetic delivery
Day 3: Subunit vaccine component - antigen, delivery system, adjuvant
Day 4: Structure-based Vaccine design - tools and techniques
Day 5: Antigenicity modification, epitope replacement, germline targeting
Day 6: Epitope focussing, hyperglycosylation, chimeric fusion, epitope scaffold
Day 7: Conformational stabilization, multimeric scaffolding, stabilizing mutations
Day 8: Antigen display and delivery platforms - multivalent display, co-display, immunomodulation, genetic delivery
Day 9: Delivery and optimization of effects
Day 10: Requirements of a universal vaccine
Day 11: Antigenically variable infectious agents and their vaccines
Day 12: R&D Environment, equipment, and Licensing for Vaccine development
Day 13: Diseases and their available vaccines
Day 14: Vaccines in the recent news and the hard work behind
FAQs- Vaccine Design & Development Certification Course
What Does Online Self Learning Course Mean?
With Rasaynika's online Vaccine Design & Development Certification Course, you can learn the techniques whenever you want by logging into the course. However, you can proceed to the next lesson only when you have completed 90% of the lessons and you have to score at least 90% marks in the test if you want a Hard copy certificate.
How do I enroll for Vaccine Design & Development Certification Course?
Add Vaccine Design & Development Certification Course to your Cart >>> Proceed to Checkout >>> Complete the payment >>> You are enrolled.
How do I begin the Vaccine Design & Development Certification Course?
You will get an activation email after you enroll for the course. Complete the course at your own pace! Begin the course whenever you can. You don't have to bend your schedule.
How can I move to the next lesson of the Vaccine Design & Development Certification Course?
Hit the Complete and Continue button on the top after you complete a session to move to the next session. You cannot proceed to the next lesson unless you complete the current lesson. So never skip through.
How much time do I have to complete the Vaccine Design & Development Certification Course?
You can watch the course until you want to complete the course. Your access to the course will end once you give the certification test. You can revise the course if you couldn't pass the test.
To evaluate yourself, take the test at the end of the Vaccine Design & Development Certification Course. There will be a test at the end of every self-learning course.
How to apply for the hard copy certificate?
If you succeeded in scoring 90% in the test, you can avail a hard copy certificate. It will be sent to your home address. 
Whom do I contact for further queries?
Click on that Chat thingy or write to us at info@rasayanika.com & cst@rasayanika.com if you have any queries.