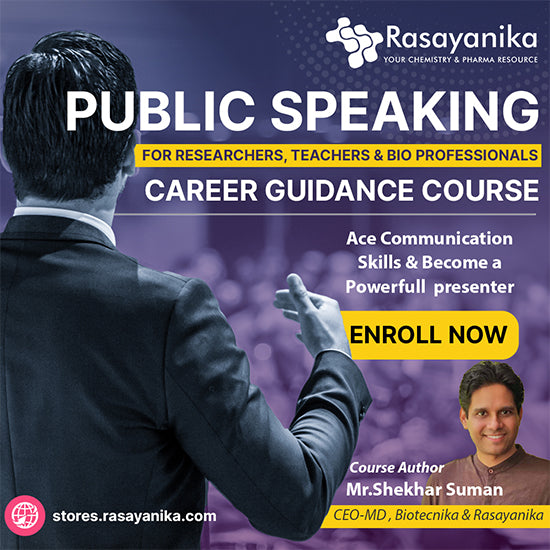 Public Speaking Course For Researchers, Teachers & Bio Professionals
Save

90

%
Original price
Rs. 14,990.00
Current price
Rs. 1,499.00
Public speaking online course For Researchers, Teachers & Bio Professionals
Have you ever wondered what the secret is behind people who talk effortlessly on a public platform? How is it that every time they pick up a microphone, the entire crowd is mesmerized?
Communication is the key aspect of everyone's life. It is a way to put across one's thoughts and ideas the way another person understands. As a science student or professional, it is of utmost importance that you master the skill of effective communication. These skills play an important role in conferences, paper presentations, Interviews, Viva, and every day in professional life. 
If you have lots of ideas but lack the confidence to put them across, we have great news for you. The art of putting across your ideas and thoughts can be mastered! To share very valuable ideas and tips on Public speaking, we bring you an exclusive Online course. 
Why is this course important?
In the field of science, effective communication opens up different avenues and gives space for new development. Our schooling teaches us the core subjects and helps us gain deep knowledge of the subject. But many of us fail to build on other necessary skills like Communication, public speaking, presentation, etc., which play a crucial role in building a successful career. These skills can be built upon by anyone at any time. 
If you are a teacher, researcher, or student, you need to master effective communication, bold and confident presentation skills, non-verbal communication during lectures, and convey your ideas in the right way. Good communication leads to better information exchange, promotes understanding, elicits interest in the audience. It's no more just a soft skill but an essential professional skill that everyone must-have. 
What You will learn in this course:
Session 1: How to hook your audience
Session 2: How to show confidence
Session 3: Overcome nervousness
Session 4: Tailor your approach
Session 5: Speak well
Session 6: Body language
Session 7: Keep their attention
Session 8: Maximize media attention
Session 9: Manage the pace
Session 10: Answer questions
Session 11: Make it enjoyable 
Session 12: Handle distractions
Session 13: Close well
Features of the Public Speaking course:
Self-paced course-

 

Start and Complete at your own time 

Mode-

 Online

Time required to complete

- 120 Mins Approximately 

Course Instructor

: Mr. Shekhar Suman

Course Activation:

 An email with login credentials will be sent upon enrollment
Who should enroll in this course?
If you are someone trying to improve your communications skills, build on your public speaking, then this course is a must for you. 
Students:

 

Master the essential skills at an early stage before you kickstart your career

.  
Research Scholars & Scientists:

 

The tips you will pick up from this course will come in handy in the next conference or paper presentation. 

Bioproffesionals:

 You will never have to fear the next presentation ever again.

Teachers & Academicians:

 Learn how to hold the attention of your students and convey your ideas effectively. 
Course Instructor: 
Mr. Shekhar Suman 
The Co-Founder, CEO, and Managing Director of Biotecnika and Rasayanika is a passionate entrepreneur striving to bridge the gap between Industry and academia. An avid reader and passionate orator who has over 15 years of rich and valuable experience in the biosciences industry. In this course, he is bringing his vast experience to guide students, teachers, and Bioproffesionals and master the essential skill- Communication. 
Enroll in the Public speaking Online course today and learn how you can become a great orator.