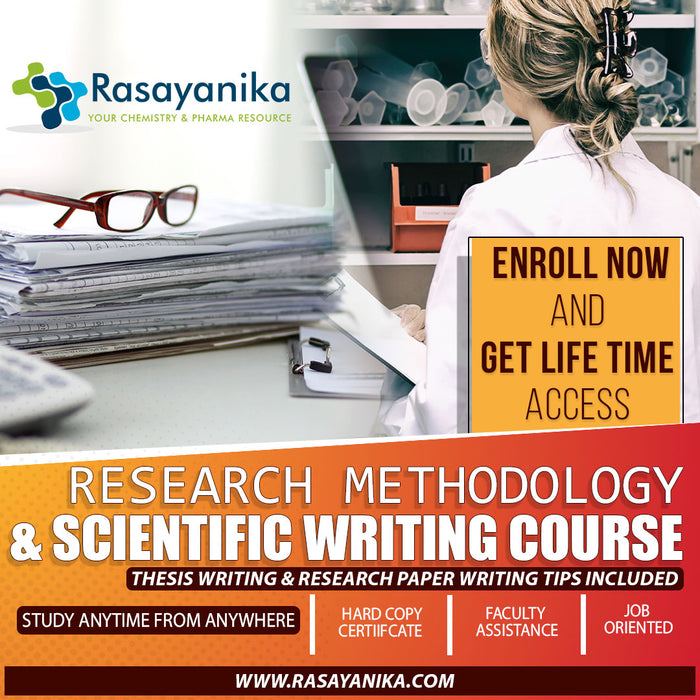 Research methodology & Scientific Writing Course
Save

93

%
Original price
Rs. 13,999.00
Research methodology & Scientific Writing Course
Thesis Writing & Research paper Writing Tips Included
Ever wondered why research papers are rejected at first glance?
Ever wondered why research papers are rejected at first glance?
Evidence suggests that 21% of papers are rejected without review, and approximately 40% of papers are rejected after peer review. Many of the researches end up completing their work after several years of continuous efforts. There are many reasons why a researcher may not succeed in completing his work in the given time with the best results.
It is very important to know the methodology of planning your research from the beginning, the process it involves, date compilation, reviewing a paper, and also writing a paper that can be accepted by best journals.
A research methodology is a process used to collect information and data for the purpose of making research decisions. The methodology may include publication research, interviews, surveys, and other research techniques, and could include both present and historical information.
To help the researcher plan his research and execute it within the best time possible, Rasayanika offers a certification course on Research methodology & Scientific Writing.
Course Module of Research Methodology & Scientific Writing Course:
Session 1: Major research methods- experimental research
Session 2: Collection & analysis of data
Session 3: Planning & writing a research proposal
Session 4: Role of Publication & library, academic databases
Session 5: The literature review
Session 6: Preparation of research papers & other articles
Session 7: Structure of a thesis, the importance of Tables & illustrations
Session 8: Reasoning in research, References-how to site & list correctly
Session 9: Improving writing skills
Session 10: Use of appropriate words & phrases, punctuation marks & abbreviation
Session 11: Conference presentation & Posters
Session 12: Ethics & Plagiarism
Session 13: Academic Search
Session 14: Web Science
What should you expect from this certification Course?
Course content Meets the industry standard.
Flexible learning- Learn anytime from anywhere.
Timings are suitable as per the students and working professionals.
Tips on reviewing an article, conducting research in the lab
Do's and Don't you should know before you plan your research career
Tips on reviewing a research article and to write an article to avoid rejection
A hard copy of Certificates will be provided on course completion that adds weightage to your profile.
Who is eligible for the Research methodology course?
The courses are designed to suit Chemistry, Pharma, Chemical science, Chem Eng postgraduates, teaching, and industry professionals along with research enthusiasts. All individual streams can apply.
A basic level of knowledge about various concepts involved in life science and Chemical science is required.
Add Ons with this Course
Learn more about the Softwares and Tools every researcher is using.
Get to know your potential employers and develop the skills they are looking for.
What's more? You can Download these additional takeaways and refer any time!
Frequently asked questions on Reserach Methodology and Scientific Writing Online Course.
What is an Online Self Learning Course?
An Online Self Learning Certification Course means you can log in any time and study at your own pace. However, you must watch 90% of all the lessons to proceed to the next lesson, and if you want a Hard copy certificate, you must clear the evaluation test, which will be available at the end of the course.
How to get started with the self-learning course?
Once you enroll for the awesome course, You will get the activation email almost immediately. Start and finish the course at your own pace! Start learning whenever you can. There is no need to bend your schedule.
What is the validity of the Course?
You will get Life Time Access to the course. Amazing, isn't it!. Sit back, relax, and take up the course anytime you feel like on any device, whether it is a laptop or mobile.
How to unlock the next lesson of the course?
Once you master a session, hit the Complete and Continue button on the top to begin your next session. Make sure you don't skip through! Unless you complete the current lesson, you cannot proceed to the next lesson. This process is in place to ensure you the understand all the concepts thoroughly because we want to become the master of it:)
What is the time limit to complete the course?
You will get Unlimited access to the course. But the course completion certificate is only given once you have completed the course, attempted & passed the test given at the end of the course. But you need not worry; the course will still stay with you. You can read & refer to it again.
How do I evaluate myself?
Time to test all the knowledge you have gained. Take the test at the end of the course and evaluate yourself. Every Self Learning Course has a test at the end, upon successful completion of which certificates are handed over.
How to get the hard copy certificate for the Research methodology Course?
To avail the hard copy certificate, Take the test at the end of the course. Clearing the test ( with a minimum of 40%) will earn you the certificate. The certificate will be sent to your doorstep.
Whom do I contact for any further queries?
Having any trouble? Get in touch with our team. Click on that Chat thingy or write to us cst@rasayanika.com or info@rasayanika.com