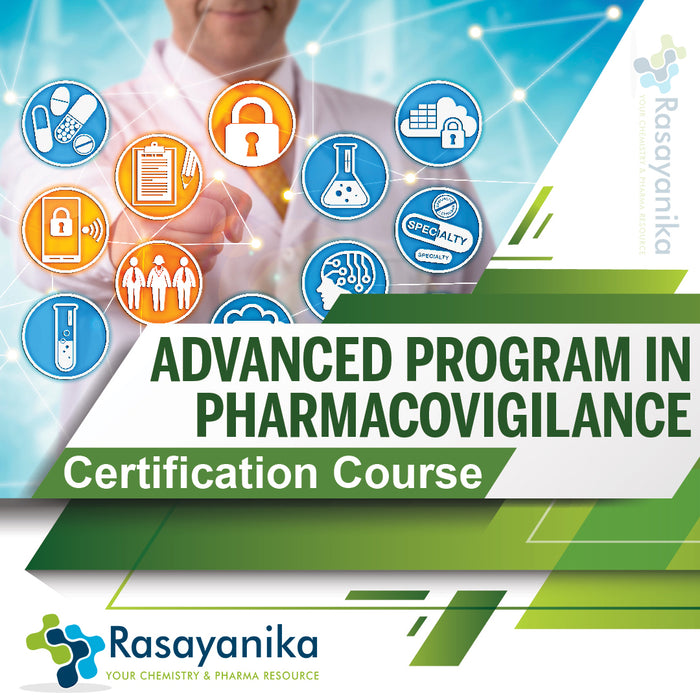 Pharmacovigilance Online Certification Course
Save

93

%
Original price
Rs. 13,999.00
Advanced Certification Program In Pharmacovigilance 
Pharmacovigilance is one of the interesting and challenging fields in the field of life science. Pharmacovigilance/Drug safety is one of the most critical steps involved in clinical trials and drug development. The field mostly involves the collection, evaluation, monitoring, and prevention of negative effects on medications and treatments and ensures the patient's wellbeing is taken care of throughout the drug development process.
Why you should enroll in this Advanced Certification Program In Pharmacovigilance?
As the array of medicinal products broadens the scope of pharmacovigilance also grows and at the rate which new drugs are introduced into the market and the need to constantly keep track of the existing medicines has actually produced a demand for highly competent pharmacovigilance and drug safety experts. The pharmaceutical firms, CRO, IT sector, etc are constantly on a hunt for talented and skilled pharmacovigilant professionals.
Eligibility for pharmacovigilance online certification course
Students in their B.Tech/ B.Sc/ M.Tech/ M.Sc/ Ph.D in Life Science / Pharma / Chemical Science / Chemistry.
A postgraduate or graduate degree in Pharmaceutical Sciences or Pharmacy/ Medicine.
Agenda of pharmacovigilance online certification course
Day 1: Introduction and revision of the fundamental principles of pharmacovigilance.
Day 2: Pharmacovigilance Reporting Database, Signal Detection, Expedited Reporting Criteria, and Managements and Risk Assessments & Evaluation (I) - Quality System In pharmacovigilance.
Day 3: Pharmacovigilance Reporting Database, Signal Detection,  PV Database, Signal Detection, Risk Assessments & Managements, and Managements and Risk Assessments & Evaluation (II) -PSUR & PBRER.
Day 4: Pharmacovigilance/Drug safety for healthcare professionals.
Day 5: Pharmacovigilance for the pharmaceutical industry and regulators.
Day 6: Pharmacovigilance methods e.g. active surveillance, stimulating reporting, passive surveillance, Medical evaluation of adverse events, and Partners in pharmacovigilance.
Day 7: Softwares in Pharmacovigilance.
Day 8: Development Safety Update Reports, Recent developments, and Job prospects.
Advantages of attending Rasayanika certification course:
Course content meets the industry standard
Interactive sessions with on spot doubt clearance
Attend online anywhere anytime
Timings are suitable as per the students and working professionals
Job and Research-Oriented courses at affordable prices
A hard copy of Certificates will be provided on course completion that adds weightage to your profile
FAQs on Pharmacovigilance Certification Course
What is an Online Self Learning Course?
An Online Self Learning Certification Course means that you can log in and study from anywhere at any time. All you need to do is watch 90% of all the lessons to proceed to the following lesson, and if you want a hard copy certificate you must clear the evaluation test, which will certainly be available at the course end.
How to Activate Protein Purification Techniques Online Self-learning Course?
Add the course to your cart and purchase it to enroll for the course! You will get an activation e-mail immediately after you enroll for this amazing certification course. You can start and finish the program at your own comfort! You can learn whenever you want.
How to proceed to the next lesson of the pharmacovigilance online course?
To begin your next session, hit the Complete and Continue button on the top after completing a session. You will not be able to proceed to the next lesson of the Pharmacovigilance Online Course without completing the current lesson, so make sure you don't skip the classes!
What is the course completion time limit for the advanced certification program in pharmacovigilance?
The course ends after your certification test. However, you can revise the course again in case you fail in the test. Until you decide to take up the test, you have unlimited access to the course.
How do I assess myself?
As all of our Self Learning Course has a test at the end, you can evaluate yourself by taking the test at the end of the course.
How to Avail the Hard Copy Certificate of Advanced Program in Pharmacovigilance Online Course?
You can get the hard copy of the certificate of the course by clearing the test with a minimum of 40%. We will send you the hard copy certificate at your desired location.
Whom should I contact for any queries or assistance?
Click on that Chat thingy or write to us cst@rasayanika.com or info@rasayanika.com whenever you have any trouble. Our team will instantly respond to your queries.