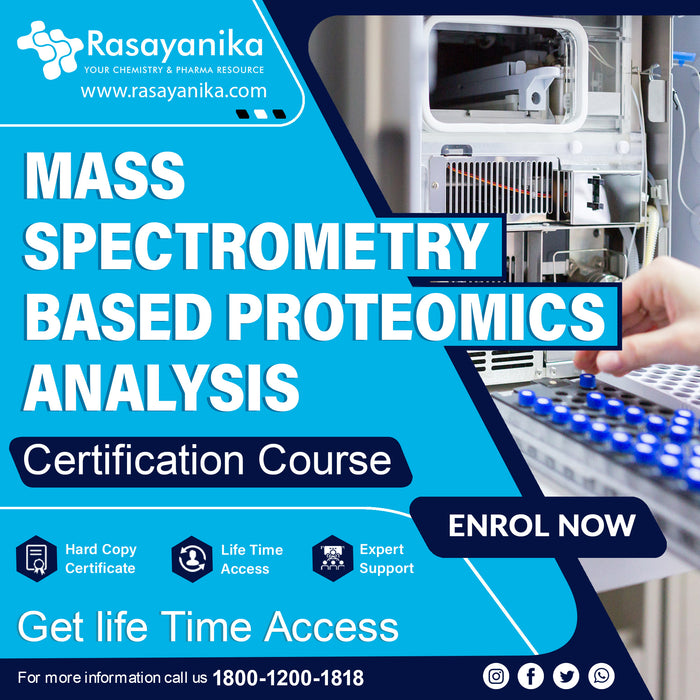 Mass Spectrometry Based Proteomics Analysis Online Certification Course
Save

93

%
Original price
Rs. 13,999.00
This Course Will Be LIVE on 27th August 2020
Mass Spectrometry-Based Proteomics Analysis Online Certification Course in Collaboration with world's Leading Manufacturers of Spectrophotometers & Other Life Science Analytical Instruments, Peak Instruments Inc. USA. See Full Catalog Here
BioTecNika, Rasayanika & Peak Instruments Inc, USA Jointly will provide the certificate for this course.
An advanced analytical technique used for accurate mass measurement is the Mass spectrometry (MS) technique. It works by producing charged molecular species in vacuum followed by its separation in the magnetic & electric fields on the basis of their mass to charge (m/z) ratio.
For identification, characterization & quantification of proteins, Mass spectrometry-based proteomics is emerging as a broadly effective means. A foundation for understanding the fundamental aspects of biology is provided by the characterization of proteins at the proteome & sub-proteome (e.g., the phosphoproteome, proteoglycan, or degradome/peptidome). Having the ability to handle the complexities associated with the proteome, mass spectrometry (MS) has gained popularity amongst the toolkit of techniques with which proteins can be investigated on a large scale. The depth of informative proteome analysis seen with mass spectrometry is not achieved by other techniques such as protein microarrays, two-hybrid analysis, and two-dimensional gel electrophoresis (2DE).
Identifying sites of protein modification, defining protein interactions, and cataloging protein expression are the 3 primary applications of Mass Spectrometry to proteomics. The use of Mass Spectrometry for proteomics is a collection of methodologies, each with strengths suited to particular inquiries and not just the application of a single technique for all purposes.
Mass Spectrometry-based proteomics advances our understanding of biology and its concepts on a systems-wide level for a wide range of applications including the investigations of human health, bioremediation, and microbial communities, as it increasingly contributes to our understanding of the dynamics, interactions, and roles that proteins & peptides play.
Advantages of the Mass Spectrometry-Based Proteomics Analysis Online Certification Course:
Studying the phenomenon of life and promoting human health is the main significance of proteomics research. Proteins are the direct embodiment of life and the executors of physiological functions. The mechanism of life under physiological or say pathological conditions will be directly understood with the study of protein structure & function.
Background knowledge and experience is required for performing mass spectrometry-based proteomics. In order to get the most comprehensive information from an experiment, there will be many decisions required to be made as understanding and handling mass spectrometry data is a multifaceted task. Thus, providing an overview of state-of-art techniques for the analysis & characterization of protein and peptide samples by mass spectrometry (MS/MS) is our aim through this Spectrometry-Based Proteomics Analysis Online Certification Course.
Through this course, one can understand in-depth basics of mass spectrometry, quantitative proteomics techniques such as iTRAQ, SILAC, and TMT using mass spectrometry, sample preparation for analysis in the mass spectrometer, analysis strategy best suited to an individual sample as this technique is mostly used in proteomics-based research nowadays, fragmentation method, type of instrumentation, and more. Additionally, the course also includes topics such as how mass spectrometers can be used to accurately distinguish different isoforms or modified forms of proteins (Post-translational modification), even in mixtures, that can provide added dimensions in the design of quantitative strategies and simplifies multiplex assay development.
Industry-standard fulfilling course contents.
Spot doubt clearance and interactive sessions
A hard copy of Certificates will be provided on the course completion that
Lifetime access to this course
Senior Faculties of Biotecnika, Dr. Priyanka Sen, and Dr. Tanushree Saxena handle the course sessions.
Mass Spectrometry-Based Proteomics Analysis Online Certification Course Content:
Proteomics introduction and sample preparation, in-gel & in-solution digestion, fundamentals of mass spectrometry
Basics of mass spectrometry (Ionization sources, Mass analyzers, MALDI sample preparation and analysis, MS/ MS fragmentation of peptides, e.g.CID, HCD & ETD)
Quantitative proteomics (Hybrid mass spectrometry configurations, SILAC, iTRAQ, TMT)
Analysis of post-translational modifications by MS, including phosphopeptide enrichment & sequencing techniques.
Proteomics and systems biology (Challenges in proteomics, Quantitative proteomics data analysis).
Mass Spectrometry-Based Proteomics Analysis - Online Certification Course Eligibility:
Graduates, postgraduates, teaching & industry professionals in the field of life sciences, along with research enthusiasts. The course requires a basic level of knowledge about various concepts involved in life science. For live streaming, good internet speed & a laptop are required.
FAQs on Mass Spectrometry-Based Proteomics Analysis Online Certification Course:
What Does Online Self Learning Course Mean?
You have the liberty to log in anytime and study the course at your own pace through the online self-learning course. However, to proceed to the next lesson, you must watch 90% of all the lessons and only after clearing the evaluation test available at the end of the course, you can avail a Hard copy certificate.
How to Activate the Mass Spectrometry-Based Proteomics Analysis Online Certification Self-learning Course?
Add the course to your cart and purchase it to enroll for the course! The course activation email will be sent to you almost immediately after you enroll for the course.
How to unlock the next lesson of the Mass Spectrometry-Based Proteomics Analysis Online Certification Course?
To begin your next session, hit the Complete and Continue button on the top after completing a session. You will not be able to proceed to the next lesson of the Protein Purification Techniques Online Course without completing the current lesson. Ensure not to skip through!
What is the Course Completion Time Limit?
The course ends after your certification test. However, you can revise the course again in case you fail in the test. Until you decide to take up the test, you have unlimited access to the course.
As all of our Self Learning Course has a test at the end, you can evaluate yourself by taking the test at the end of the course. Master the course and get set to test all the knowledge you have gained.
How to Avail the Hard Copy Certificate of Mass Spectrometry-Based Proteomics Analysis Online Certification Course?
You can get the hard copy certificate of the course by clearing the test with a minimum of 90%. We will have the Hard Copy Certificate sent to you at your desired locatio.
Whom do I contact for support?
Click on that Chat thingy or write to us cst@rasayanika.com or info@rasayanika.com whenever you have any trouble. You can instantly get in touch with our team