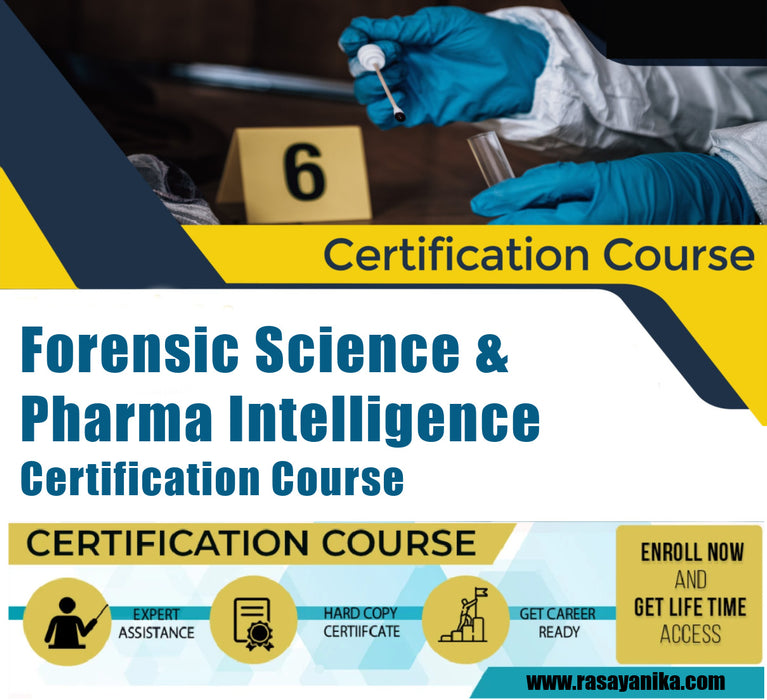 Forensic Science & Pharma Intelligence Certification Course
Save

93

%
Original price
Rs. 13,999.00
Forensics & Pharma Intelligence Course-Certification Program
Haven't we all dreamt of being a famous detective like Sherlock Holmes? Words like Drug toxicology, Cybercrimes, DNA fingerprinting, Biocrime, etc fascinates most of us.
The close relation between Biosciences and the Forensic field makes this one of the most exciting career options. By Definition  Forensic science is the application of scientific knowledge and methodology to criminal investigations and legal problems. It is a multidisciplinary subject that encompasses various fields of science, such as chemistry, biology, physics, geology, psychology, social science, engineering, etc.  
Rasayanika Forensics & Pharma Intelligence Course: With the rise in crime and criminal activities like theft, rape, murder, kidnapping, cybercrime, and credit card frauds, the corresponding demand for forensic science professionals is also increasing. Biotecnika self-learning course is designed to bring awareness about the Forensic field in all young enthusiasts.
What topics will you cover?
Introduction about Forensics, Criminal mindset, and behavior.
Crime scene Observation, Investigation, and Evidence Collection
Ethics and bias in crime scene investigation and criminalistics
Network intrusions and cybercrime investigation, computer forensics.
 Examine the four major evidence types: drugs of abuse, DNA, firearms, and impression evidence
Drug Identification and Toxicology, Non-human DNA forensics
Forensic Anthropology and Forensic Entomology
Guidelines and Testing Procedures of physical pharmaceuticals
Vibrational spectroscopy (e.g., NIR, FTIR, Raman), Small Material Sensors (SMS), toolkits, etc.
Multivariate statistics (e.g., regression analysis for classification or property calibration)
Machine learning, algorithms study, and development, chemo-metrics
Biocrime and bioterrorism, forensic biosensor development
Criminal Code, Constitution, and Law Case studies
Scope, career paths (e.g. veterinary forensics, forensic accounting), future prospects, backup plan, resume building, and job opportunities
FREE Downloadable Section Also Available which contains: Discussion about Job Opportunities, Case Studies, research papers, List of Tools Used in Forensic Science, Top Companies Working in this field, and more.
Who is this course for?
This course is eligible for all minds eager to learn something new! If you are a Student in  B.Sc / B.Tech / M.Sc / M.Tech Chemistry or Bpharm, Mpharma who aspires to work in Forensic Sciences and Pharmacy then this is the course you need to enroll for. It is a must for everyone interested to explore the widespread opportunities the field has to offer.
Job Opportunities: Forensic science is used around the world to protect public health, to enforce criminal laws and regulations, and to resolve civil disputes. You can find employment in Forensic Laboratories, Detective Offices, Banks, and other Govt. and private agencies.
" Forensic science offers great potential, as it draws on almost every discipline and, in doing so, creates a widespread opportunity for innovation".- Mark Walport
Mode Of Course: Self-learning, Online Mode
Frequently Asked Question on Forensics & Pharma Intelligence Course
What is an Online Self Learning Course? An Online Self Learning Certification Course means you can log in any time and study at your own pace. However, you must watch 90% of all the lessons to proceed to the next lesson and if you want a Hard copy certificate, you must clear the evaluation test, which will be available at the end of the course.


How to get started with the self-learning course?
Once you enroll in the awesome course, You will get the activation email almost immediately. Start and finish the course at your own pace! Start learning whenever you can. There is no need to bend your schedule.
How to unlock the next lesson of the course?
Once you master a session, hit the Complete and Continue button on the top to begin your next session. Make sure you don't skip through! Unless you complete the current lesson, you cannot proceed to the next lesson.
What is the time limit to complete the course?
           Unlimited access until you decide to complete the course. But once you have given your certification test, the course ends. If you fail the test, you can revise the course again.
How do I evaluate myself?
           Time to test all the knowledge you have gained. Take the test at the end of the course and evaluate yourself. Every Self Learning Course has a test at the end.
How to get the hard copy certificate?
          To avail, the hard copy certificate, Take the test at the end of the course. Clearing the test ( with a minimum of 40%) will earn you the certificate. The certificate will be sent to your doorstep. Now you know not to skip through the course.
Whom do I contact for any further queries?
Having any trouble? Get in touch with our team. Click on that Chat thingy or write to us at  cst@rasayanika.com or info@rasayanika.com.