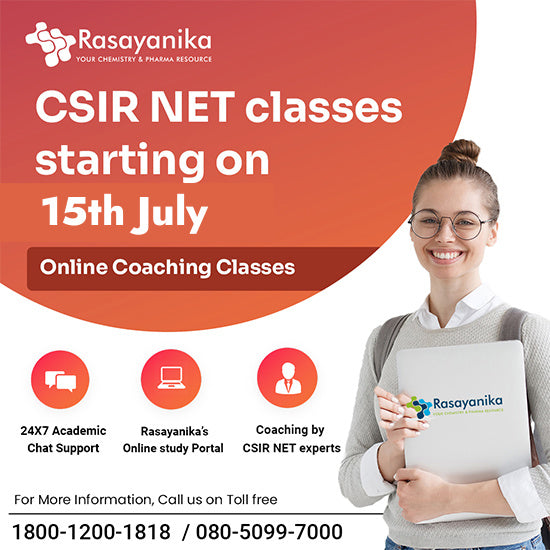 CSIR NET Online Coaching Classes
Save

50

%
Original price
Rs. 45,000.00
Current price
Rs. 22,500.00
On Popular Demand, We Are Starting New Batch for CSIR NET 2022 Chemical Sciences

Online classes Starting on 15th July 2022- With 16 Seats only 

Admissions Now Open - Book Your seats today
JCB Scholarships Announced - Upto 100% Scholarship on our CSIR NET Coaching. Contact in Chat for more details
A MUST for aspiring candidates for this year's CSIR NET 2022 Exam!

We are bringing our classroom setting review to the electronic world. As part of our innovative CSIR NET Chemical science coaching, we launched an online coaching program for students who can't avail themselves of our classroom coaching.
About this Package
Regular Package: 6 Months Coaching
DSG Package: 12 Months Coaching
TSG Package: 18 Months Coaching + Exam Postponement Insurance
This package includes 600 hours of intensive Online coaching for Life Science and Chemical Science. It aims to help unfold your potential and clear the CSIR NET Exam. In this package, you can leverage interactive face-to-face coaching with our lecturers online.
The following are included in the package:
CSIR Online Coaching with our lecturers

100% high-quality audio

100% unparalleled webcast series

24X7 Chat Support to interact and ask questions via chat

Digital interactive whiteboard
More Package Inclusions
CSIR NET Chemical Sciences candidates would be provided with Online Coaching Classes

Special Supplements on General Aptitude and Practice papers

CHEMNET All India test Series 

Chat Support for Academic doubt solving

Free FULL access to Rasayanika's Online study Portal fo 6 Months from the date of Purchase
Few of our salient features you should know about:
A competitive environment where all your batch mates compete and you will are constantly pushed to perform even better and smarter

24X7 Access to the Best of the CSIR NET experts with 20+ years of training aspirants just like you

Access to the toughest most questions ever asked in CSIR NET exams and their detailed answers so that you get instant clarity on difficult questions

Detailed Custom e-Animations on almost each and every topic which is related to the CSIR NET Chemical Sciences Syllabus

Pictorial e-Flowcharts on all Important concepts which will boost your memory and help you recall better
Why Buy this Package
Rasayanika has a track record of 90% Success Record. In return for this wonderful success, we have committed to helping candidates, both new and re-takers, to pass the CSIR NET Exam. We highly encourage you to avail of this package for your own future. If you want to earn a successful position in JRF and earn a bigger salary, it is time that you grab this golden opportunity.
All you need is a minimum 256 kbps internet connection to attend the classes! It is truly amazing, isn't it?
Batch Schedule
Morning Batch: 10:00 AM to 1:00 PM

After Noon Batch: 1:30 PM to 4:30 PM

Late Evening Batch: 7:00 PM to 10:00 PM
How to Know if the CSIR NET Online Coaching is Right for You
Although a lot of students prefer classroom coaching, there are students who love online coaching for many other reasons. This is why, Rasayanika took the initiative to offer online coaching to cater to our tech-savvy candidates who want to grab the opportunity of studying virtually and clear the CSIR NET Exam. Can't decide whether you want to enroll online or opt for classroom coaching? Here are the reasons why CSIR Online Coaching might be right for you.
Lower total costs. Aside from the fact that our CSIR Online Coaching is very affordable, you want to save time and money in going to and from school.
Schedule flexibility. You are probably working part-time and the best way to study for the CSIR NET Exam is to use online resources at the comfort of your own home.
Self-paced study schedule. You want to study at your own pace because you can focus better when you are on your own.
Distraction-free. You want to avoid distractions that commonly happen when you are around other groups in the classroom. For you, it feels better when you are studying in your office or in your room, rather than exposing yourself to other CSIR NET Exam candidates.
Tech-savvy. You prefer the revolutionary yet effective form of CSIR NET coaching rather than the traditional classroom setting. You also feel more comfortable using devices than carrying heavy books. Aside from that, you also want to improve your own virtual skills and get used to the new methods of the new generation.
 What are you waiting for? Hurry and avail our Online Coaching Classes and be prepared for this year's CSIR NET 2021 Exam.
Got More Questions? Chat with us
Watch a Sample Class below
PS: This package includes 6 months/12 Months ( for DSG) and 18 Months (for TSG) of Online coaching without Books.