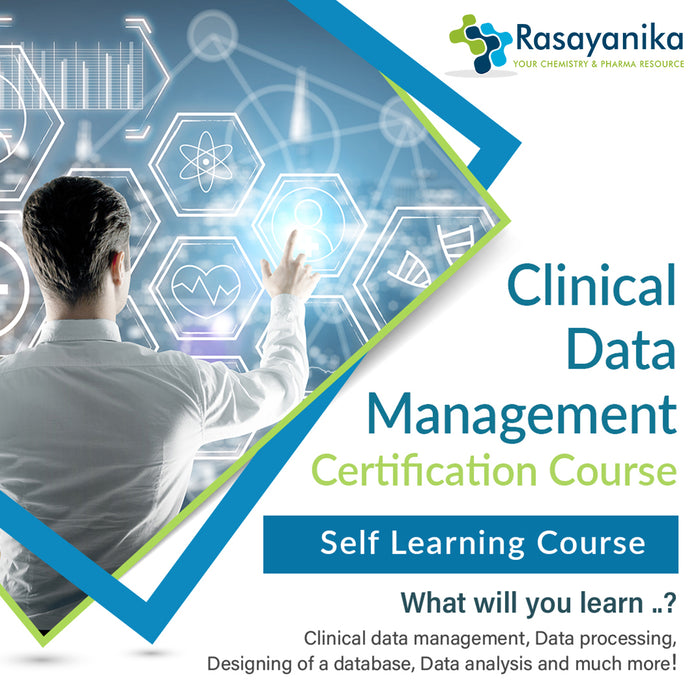 Clinical Data Management Online Certification Course
Save

93

%
Original price
Rs. 13,999.00
Clinical Data Management Course - CDM Online Certification Course.
A complete overview of managing data in clinical trials through this Advanced Program in Clinical Data Management.
Clinical Data Management
In clinical research, Clinical Data Management (CDM) is a critical technique. From various clinical tests, high-quality, reliable, and statistically sound data can be generated using this technique. The data are analyzed and integrated at appropriate quality and cost after the collection of data from different clinical trials. During the conduct of clinical trials, the entry, verification, validation, and quality control of data gathered is encompassed in Clinical Data Management. Clinical Data Management is a crucial and relevant part of a clinical trial.
Why is Clinical Data Management Needed?
At least once during a researcher's research period, the researchers working in the field of clinical research, try their hands-on Clinical Data Management activities. On the whole, the ones responsible for collecting data from several medical research projects (pharmaceutical and clinical trials) are the Clinical Data Managers. Clinical Data Managers work collaboratively to make ensure the data is collected, managed, and reported securely, accurately, and clearly. Clinical data managers work for research universities, private companies, government organizations, and hospitals. They also work for large pharmaceutical companies.
Career Prospects of Clinical Data Management
Generally, to be a Clinical data Associate, the minimum requirement i a Bachelor's degree in life sciences, computer science, or healthcare. One has to undergo training programmers to increase knowledge in healthcare information systems, computer technology, and record management, as this arena demands knowledge with computer science and in health care. Experienced candidates are preferred to be hired as clinical data associates in most of the industries nowadays. Thus, gathering experience of 1 or 2 years in the healthcare industry, ideally in clinical data management is necessary.
After completing a course in Clinical Data Management, clinical data associates have employment opportunities as:
CRO's & Pharma Companies
IT Organizations
Biotech MNC's
Various Government led Departments & Much More
Clinical Data Management Course Contents:
Introduction to Clinical Data Management, answering 'WHY.'
Process Flow Overview
Study Start-Up requirements
Conducting a study and study closeout - SAE Reconciliation
Designing the database
Data access and profiling
Metadata driven CRF/eCRF Handling
Data Processing - data transformation
Data analysis and reporting - business intelligence
Discrepancy Management
Audits, Trails, and Traceability - Secure data exchange
Collaborative studies and increasing efficiency - Quality Analysis
Software and Programming knowledge needed for CDM
Job opportunities and career prospects
Mode of Workshop of Clinical Data Management Course: Online Self Learning
Instructors of Clinical Data Management Course: Senior BioTecNika Experts: Dr. Priya Goswami, Dr. Rashmi Sanyal, Dr. Priyanka Sen
Certification: All participants who attend the Clinical Data Management Course are eligible to get the Participation Certificate.
Who can enroll:
Students pursuing their B.Sc / B.Tech / M.Sc / M.Tech who aspire to work in the clinical research field.
FAQs on Clinical Data Management Online Certification Course:
What Does Online Self Learning Course Mean?
You have the liberty to log in anytime and study the course at your own pace through the online self-learning course. However, to proceed to the next lesson, you must watch 90% of all the lessons and only after clearing the evaluation test available at the end of the course, you can avail a Hard copy certificate.
How to Activate the Clinical Data Management Online Self-learning Course?
Add the course to your cart and purchase it to enroll for the course! The course activation email will be sent to you almost immediately after you enroll for the course.
How to unlock the next lesson of the Clinical Data Management Course?
To begin your next session, hit the Complete and Continue button on the top after completing a session. You will not be able to proceed to the next lesson of the Protein Purification Techniques Online Course without completing the current lesson. Ensure not to skip through!
What is the Course Completion Time Limit?
The course ends after your certification test. However, you can revise the course again in case you fail in the test. Until you decide to take up the test, you have unlimited access to the course.
As all of our Self Learning Course has a test at the end, you can evaluate yourself by taking the test at the end of the course. Master the course and get set to test all the knowledge you have gained.
How to Avail the Hard Copy Certificate of Clinical Data Management Course?
You can get the hard copy certificate of the course by clearing the test with a minimum of 90%. We will have the Hard Copy Certificate sent to you at your desired location.
Whom do I contact for support?
Click on that Chat thingy or write to usinfo@rasayanika.com or cst@rasayanika.com whenever you have any trouble. You can instantly get in touch with our team.