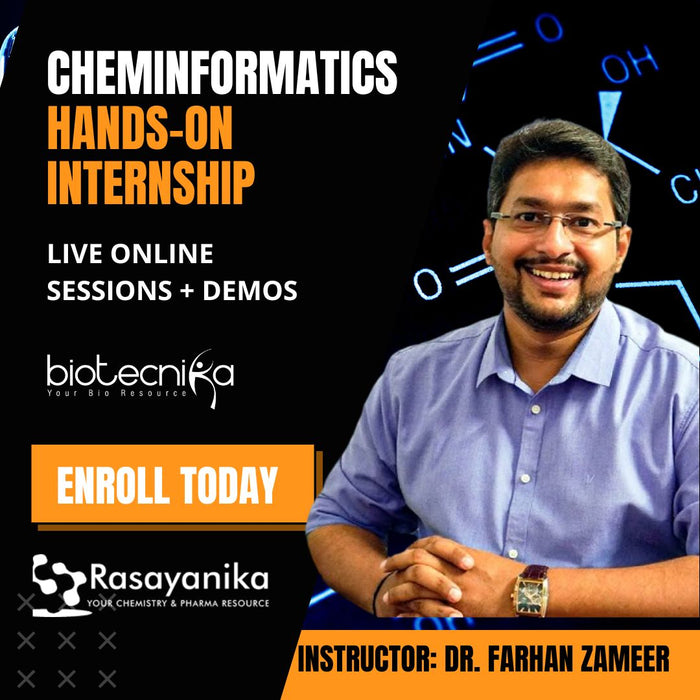 Cheminformatics Hands-on Internship - LIVE Online Sessions + Demo's
Save

50

%
Original price
Rs. 7,000.00
Current price
Rs. 3,500.00
Biotecnika & Rasayanika Launches
14 Days: Cheminformatics Hands-on Internship
Price Changes From Tomorrow!!
Starts From 17th January 2023
Exclusive Opportunity For Students & professionals To Gain Experience & Excel In Their Career
We are excited to invite you to join Cheminformatics Live online Hands-on Internship. This internship will allow you to learn and apply the principles of cheminformatics through interactive modules and hands-on exercises.

Cheminformatics is a rapidly growing field that combines chemistry and informatics to facilitate the acquisition, storage, management, analysis, and dissemination of chemical and related biological data. It plays a crucial role in many areas of research and development, including drug discovery, chemical engineering, material science, and environmental science.
There are several reasons why learning cheminformatics can be beneficial:
Cheminformatics provides a strong foundation in chemistry and informatics, which are essential skills for careers in the pharmaceutical, chemical, and biotechnology industries.

It allows you to use computational tools and methods to analyze and interpret chemical data, which can help you make informed decisions and solve complex problems.

Cheminformatics can help you design and optimize new chemical compounds for various applications, such as drugs, catalysts, and polymers.

It enables you to use data mining and machine learning techniques to identify patterns and trends in large datasets, which can lead to new insights and discoveries.

Cheminformatics can help you stay up-to-date with the latest advances in the field and stay competitive in the job market.
Learning cheminformatics can open up a range of career opportunities and enable you to make a positive impact in various industries.
Meet The Instructor
Why should you consider attending this internship?
The internship is designed to provide a comprehensive introduction to cheminformatics, covering a wide range of topics from the history and scope of the field to the latest tools and techniques used in drug discovery.

It will give you the opportunity to learn from experienced professionals and experts in the field, who will provide valuable insights and guidance.

The hands-on exercises and interactive modules will allow you to apply what you have learned and gain practical experience in cheminformatics.

The internship will provide you with a strong foundation in cheminformatics and prepare you for further studies or a career in the field.

It is a great opportunity to network and connect with other students and professionals with similar interests and goals.
Attending this internship can be a valuable investment in your education and career development, and we encourage you to take advantage of this opportunity.
Course Curriculum:
Requirements for the Internship:
Good understanding of Biotechnology, Chemistry terms, and concepts

A Laptop or computer

Stable Internet connection

Eager-to learn- Attitude 
Frequently asked questions
Are these going to be live sessions?
The Virtual Internship will combine live interactive sessions, recorded self-learning classes, and assignments. However, our experts will be available to guide you throughout the course. 
What If I miss a session in the cancer genomics virtual internship?
The recording of the sessions will be available for 5 days post completion of the internship. So you can go back and refer to the recordings, but make sure you do not miss the live sessions and take maximum benefit from it.

How to get the hard copy certificate?
To avail, the hard copy certificate, the candidate should complete the assignments. A hard copy certificate will be sent to your address upon submission of the same.
Whom do I contact for any further queries or technical difficulties?
Having any trouble with this virtual internship? Get in touch with our team. Click on that Chat thingy or write to us at cst@biotecnika.org or info@biotecnika.org