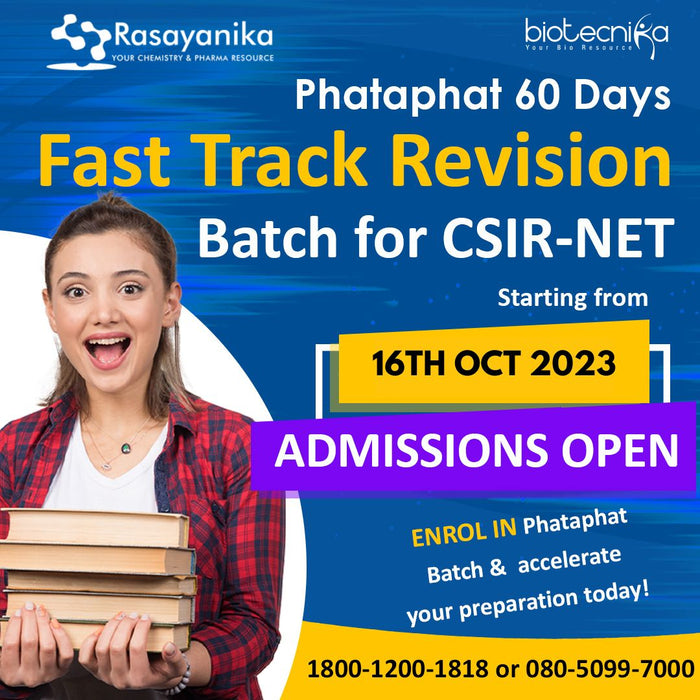 60 Days Fast Track Revision Batch For CSIR NET Chemical Science Dec 2023 Exam
Save

74

%
Original price
Rs. 19,000.00
Current price
Rs. 4,995.00
FAST TRACK REVISION BATCH LAUNCHED FOR CSIR NET CHEMICAL SCIENCE DEC 2023
60 DAYS SUPER FAST REVISION OF IMPORTANT CONCEPTS
CSIR NET SYLLABUS IS HUGE & JUST FEW DAYS LEFT FOR THE EXAM
ACT FAST & SECURE JRF / LS THIS TIME
STARTS FROM 16th OCT 2023
The CSIR NET Chemical Science exam is right around the corner, and it's time to face it head-on! With just 60 days left, there's no room for panic. That's why Biotecnika & Rasayanika is excited to introduce the "Quick 60-Day Revision Batch" - a fast-paced and comprehensive program designed to supercharge your preparation.
In today's fast-paced world, everything is quick and efficient, and so should your revision be. Join Biotecnika and enroll in our Quick 60-Day Revision Batch for CSIR NET Chemical Science to accelerate your preparation under the guidance of experts. Hurry, as seats are limited!
Why Choose the Quick 60-Day Revision Batch for CSIR NET Chemical Science?
We've meticulously crafted this program to cater specifically to your needs and requirements in the last 60 days leading up to the CSIR NET Chemical Science exam. Our team of experts has devised a unique strategy to help you excel in the exam. By enrolling in this batch, you'll have the opportunity to interact with seasoned experts, revise crucial topics, and access a range of additional resources to support your preparation.
Join our live classes and access recorded sessions to cover a comprehensive range of topics relevant to CSIR NET Chemical Science. Don't miss out on this excellent opportunity to ace your CSIR NET Chemical Science exam. Secure your seat today!
Subjects Offered: 
Timings & Mode:
Evening Batch: 7 PM

Only Online

Attend from Home or Anywhere in the world using an Internet connection

Intensive Online training for Organic, Inorganic, and Physical Chemistry.

Higher priority will be given to essential and difficult units.

Online E-Learning Study Portal with access till Dec 2022
More focus on question-solving.
100+ hours of discussions on tough questions and CSIR NET previous year's question papers.
Plan your study so that you can schedule your subjects 
Personalized timetable planner for every student.

24X7 chat support for question-solving (That means you can ask questions and get instant answers at night time also when you study )

Tips and Tricks- Guidelines on how to crack CSIR NET exams faster
What else is new?

A chance to upgrade to the Double Success Guarantee Program or Triple Success Guarantee Program.
Secure your spot in the Fast Track Revision batch now and gear up for the December 2023 CSIR NET Chemical Science exam. If you decide to continue your CSIR NET journey with us, you can upgrade to the CSIR NET Jeet batch in the future by settling the remaining fee. Terms and conditions apply.

Please note that we have limited seats available for this batch, so act quickly to reserve your spot.

Remember, "By failing to prepare, you are preparing to fail."

Join The Formidable Plan, specially designed by BioTecNika for your success.

Have questions or need assistance? Feel free to chat with us or contact us at 1800-1200-1818 or 080-5099-7000.

ENROLL NOW